Community Veterinary Outreach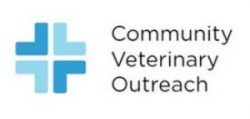 July 13, 2019 9am to 5pm
Program Summary:
Community Veterinary Outreach (CVO) is a registered charity that improves the health of homeless and vulnerably-housed individuals, families and their pets through a One Health model of care. By offering human health services and health education alongside preventative veterinary care, Community Veterinary Outreach provides innovative access to both veterinary and human health care for at-risk populations across Canada.
CVO partners with the animal health community, human health and social services, and academic institutions to deliver One Health services for people that include primary care, immunizations, harm reduction, oral care, smoking reduction/cessation, mental health support and active living. Through veterinary volunteers, sponsors and supporters, animal companions are provided with wellness examinations, immunizations, parasite control, microchip implantation, and spay/neuter.
In partnership with WSAVA and CVMA, CVO is excited to provide delegates with the opportunity to participate in an outreach day. This outreach day will include a 2.5-hour One Health workshop where we will provide background on CVO's One Health model and approaches, along with presentations by both human and animal health partners, followed by a Community Veterinary Outreach One Health clinic for homeless and vulnerably-housed pet owners at the Yonge Street Mission in Toronto. Delegates will be supervised by licensed veterinarians.
Program Speaker Lineup:
Cassandra Churm RN, MN
Homeless at-risk prenatal team, Toronto Public Health
Cassandra graduated from Queens School of Nursing in 1997 and her Master of Nursing in 2000 from University of Toronto.  While getting her masters she started her nursing career at Baycrest Hospital and Long Term Care on a psychiatry unit.  In 2000 Cassandra moved to Toronto Public health in what was then called Healthy Families.  In that job she worked with vulnerable high risk families to support them in their transition to parenting and assuring that their children's potentials were fully reached.   In 2013 Cassandra moved to the HARP (Homeless at risk Prenatal) team.  This team works with homeless woman with additional concerns such as addictions and mental health who are pregnant and parenting.  During her time in HARP Cassandra worked closely with Native Child and Family Services of Toronto and had the privilege of working with many Indigenous families in Toronto.
Hussein Jahazi BA
Street Outreach Worker Mobile Dental Clinic, Toronto Public Health
Hussein Jahazi is a Street Outreach Worker with the Mobile Dental Clinic –Dental Division Toronto Public Health. Prior to joining TPH, Hussein more than 15 years' work experience in various capacities in Social Work. Mental Health Worker, Youth Worker and Shelter.
He is well resourced, great advocate for clients facing barriers in service.
He has received recognition from his peers and was twice nominated for the "You Make A Difference Award" by the City of Toronto. He also worked on a project in establishing housing for homeless individuals and matched them to potential landlords. Hussein Has a B.A. (Hons) from York University and is a passionate supporter of Community Veterinary Outreach.
Susan Kilborn DVM, DVSc, DACVIM
Regional Director Ottawa, One Health Director, Community Veterinary Outreach
Dr. Susan Kilborn received her DVM degree from the Western College of Veterinary Medicine. After 4 years of emergency and critical care practice in Winnipeg, she completed a post-graduate degree (DVSc program in Clinical Studies) at the Ontario Veterinary College. She became board certified in the American College of Veterinary Internal Medicine in 1995. Susan currently does referral internal medicine at Orleans Veterinary Hospital in Ottawa, consults (internal medicine and nutrition) for Antech Diagnostic Laboratories. Susan is Regional Director for Ottawa as well as One Health Director for Community Veterinary Outreach. Susan was the recipient of the Canadian Veterinary Medical Association Small Animal Practitioner Award in 2015.
Mark Kinghorn DVM
Regional Director Toronto, Community Veterinary Outreach
Dr. Mark Kinghorn graduated from the Ontario Veterinary College in 2004 and is the owner of Roncy Village Veterinary Clinic and Bloorcourt Veterinary Clinic. In 2017 Mark became certified as a Traditional Chinese Veterinary Medical practitioner and Certified Veterinary Acupuncturist, and he is in the process of certifying as a Chinese Herbalist. Mark has been Community Veterinary Outreach's Regional Director for Toronto since 2011.
Michelle Lem DVM, MSc, MSW, RSW
Founder, Community Veterinary Outreach
Dr. Michelle Lem graduated from the Ontario Veterinary College (OVC) in 2001, and founded Community Veterinary Outreach in 2003, a registered charity that improves the health of homeless individuals and their pets through a "One Health" model of care. By offering human health services and health education alongside preventative veterinary care, Community Veterinary Outreach provides innovative access to both veterinary and human health care for at-risk populations across Canada. Community Veterinary Outreach has programs in 5 communities in Ontario, Winnipeg, Vancouver, and Kelowna, and is scaling to the U.S. in the coming year.
After graduating from OVC, Michelle practiced on the North Island of New Zealand before returning to Ottawa, where she has practiced companion animal medicine and surgery as an associate veterinarian, companion animal mobile service and locum. From 2003 to 2009, Michelle provided behavioural consultations for companion animals on a referral basis; consulted for police canine units and was contracted by the Department of National Defence (military working dog program) from 2009 till 2011; and taught in the Veterinary Assistant and Technician programs at Algonquin College from 2004 till 2014. Michelle returned to OVC to pursue graduate research in the Department of Population Medicine, studying the effects of pet ownership on street-involved youth, receiving her MSc in 2012. In 2018 Michelle received her Master of Social Work from Carleton University. Her areas of interest for her MSW were: the link between human and animal violence, pet ownership among marginalized populations, wellbeing in the veterinary profession, and One Health approaches to intervention and practice. Michelle was elected an Ashoka fellow for her social innovation in accessible health care for marginalized populations and has received numerous awards including the OVC Young Alumnus Award, The Queen Elizabeth Diamond Jubilee Award and the Canadian Veterinary Medical Association's Presidents Award.
Casey Panning BA, BEd, MPH
One Health Coordinator Toronto, Community Veterinary Outreach
Casey Panning has been involved with CVO since 2015. She began in a research capacity in the Golden
Triangle Region, transitioned to Public Health Resources Coordinator in this region, and in 2016 became the One Health Coordinator in the Toronto region. Her role with CVO involves coordinating with public health professionals in the Toronto area to provide access to various public health resources for clients who attend our Toronto clinics. It also involves maintaining and building relationships with public health professionals who service our clinics, and collecting and recording data as it pertains to the uptake of public health resources at our clinics. Casey has a Master of Public Health, and a Bachelor of Education. In her professional life, she is the Community Outreach and Education Coordinator at the Toronto Humane Society, where her role is to teach the public about animal welfare. Casey is passionate about animal welfare and completing the circle of health from pet to human.
Sima Patel, BSN, MES
Public Health Nurse, Toronto Public Health
Sima Patel has been a public health nurse within the Chronic Disease and Injury Prevention Unit at
Toronto Public Health since 2012 where she focusses on promoting healthy eating, physical activity, diabetes prevention, cancer prevention, tobacco cessation and injury prevention. Prior to her current role, Sima worked within the sexual health program at Toronto Public Health, counselling clients in the sexual health clinics as well as over the phone. Sima also has nursing experience in sexual assault care, international aid, and acute pediatric care. She obtained her Master of Environmental Studies in 2009 and worked with an environmental non-profit organization for two years.
Nicole Sonier-Hoe, MScN, PHC/NP
Canadian Mental Health Association, Ottawa
Nicole Sonier-Hoe is a primary health care nurse practitioner, with experience providing community-based, outreach health care, in a variety of settings including: northern outpost clinics, community health centers and a shelter.  Nicole started with the Ottawa Branch of the Canadian Mental Health Assoc., in 2013.  She has since been serving on both their Nursing, and Concurrent Disorder teams providing health-care related consultation, client episodic physical health care, chronic illness/ cancer screening, and smoking cessation assistance program through which Nicole became involved in the One Health aspect of Community Veterinary Outreach Clinics.